17th Edition BS7671:2015 Full Course (6 Days) - 17th Edition Yellow Book
You can choose to study this course in the following ways:
Qualification
City & Guilds 2382-15
Who is this course for?
GUIDED LEARNING HOURS RECOMMENDED BY CITY & GUILDS = 35
A basic knowledge of electrical installations is required.
Course description
The course is designed to provide candidates with an in depth understanding of the 17th Edition Wiring Regulations BS7671:2008(2015)+Amendment 3. City & Guilds recommended guided learning hours have been followed to enable candidates to gain sufficient competency to progress onto higher level qualifications such as City & Guilds 2394-01 and 2395-01 Inspection & Testing or City & Guilds 2396-01 Design & Verification courses.
It is suitable for practising electricians, domestic installers and anyone involved in design, supervision or electrical specifications. The course is split into 'outcomes' as follows:-
Scope, object and fundamental principles
Definitions
Assessment of general characteristics
Protection for safety
Selection and erection of equipment
Inspection and testing
Special installations or locations
Appendices
Assessment
A two hour online examination is required to complete the programme. A copy of BS7671:2008(2015) is permitted reference material during the assessment.
Materials Required
Morris Services Ltd will provide all candidates with a copy of the NICEIC Learner Guide.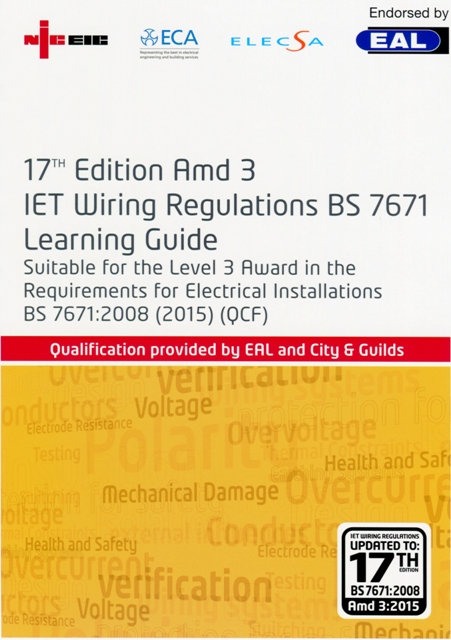 Please ensure that you have obtained a copy of BS7671:2008 (2015) Amendment No.3 prior to starting your course. This publication can be ordered from the IET website, amazon, bookshops or electrical wholesalers locally. All candidates are required to bring along a non-programmable scientific calculator and standard stationary.

Requirements for Electrical Installations

IEE Wiring Regulations

Seventeenth Edition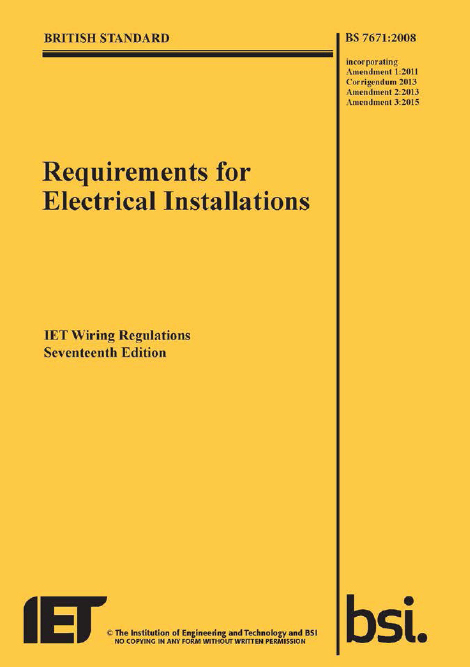 Entry Requirements
A basic knowledge of electrical installations is required.
Progression
City & Guilds Inspection & Testing Courses, such as 2394-01 and 2395-01 + City & Guilds Design & Verification Course 2396-01.
Course Location
Unit 18 Avondale Business Centre, Woodland Way, Kingswood, Bristol, BS15 1AW
Teaching Staff
Alan Wilson, Les Holmes & James Morris